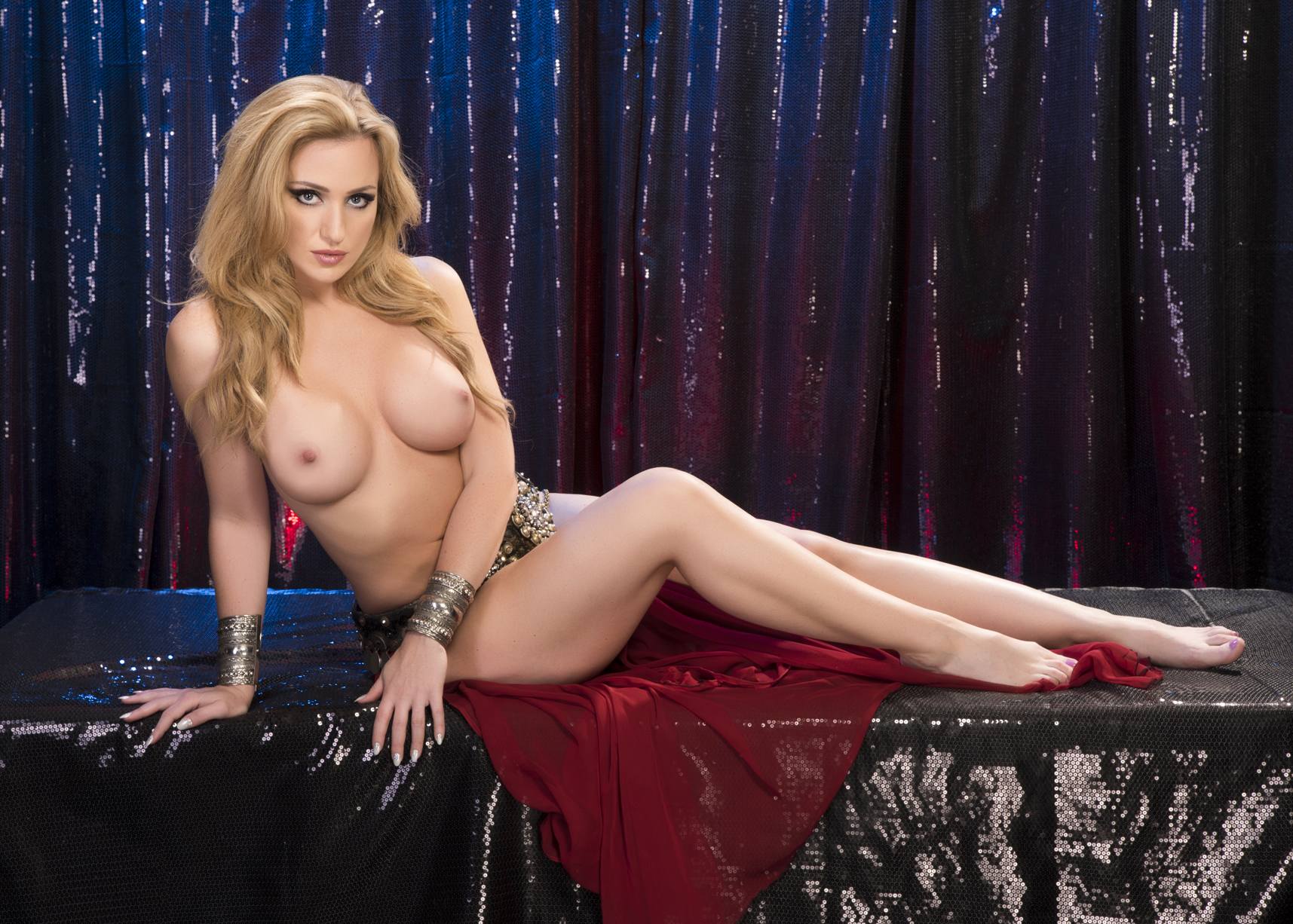 ---
From the moment we set eyes on Angela Sommers we knew she had to be on the cover. The only thing, her schedule never brought her to Florida. Finally, Angela will be here to compete in a couple of events, which will we get to later in the interview. We asked Angela to describe herself in three words. "Erotic, Alluring and Bombshell," she replied. We agree and know you will too.
Xcitement: The first time we saw you was on stage at Dames N Games, competing in the Exotic Dancer Invitational West Pageant. You were dressed in a floor length white skirt and wearing a metal bra. You had silver wings and flew up the pole like a goddess. We saw you again and you were a vampire. Obviously there are many sides to Angela Sommers….
Angela: oh yes that was/is my favorite costume! I call it my Ark Angel Show. It's my "go to" show for many of my feature trips. I also love vampires, and I am pretty well know in the vampire cosplay comunity in many parts of the country, especially LA and San Diego. I have bat wings that were constructed by my seamstress and I. They open and close with an 8 foot wing span. I'm very proud of the costumes I create with my amazingly talented friends. I won Exotic Dancer Showgirl West this past year in my mermaid costume, my seamstress amd I made sparkly pants that when my legs were together looked like a mermaid tail! We rocked it.
Xcitement: Lets talk about vampires:
Angela: Vampires! My favorite! I have been Cos-playing as a Vampire for the past three years since I befriended/joined the Vampire community in San Diego California. We are really just a group of people who like to wear our fangs, dress up as Vampires and go out and party together. We don't drink blood or anything like that lol. At least my friends don't! I've taken it a bit further and after befriending a "Fang Smith" (someone who sculpts custom wearable fangs) named Leonardo Cavallero, together we created a Super Heroine lesbian character named Callidora for the fetish films that I produce. Callidora has become quite popular amongst my fans. I'm not only involved in the Vampire community in San Diego, but I am close with Los Angeles, New Orleans and Austin, Texas communities and slowly reaching out of the country to other goths and lovers of the immortal romance and violence that the vampire world creates for it's followers.
Xcitement: Now fangs:
Angela: Fangs! Well I have more than a few custom made pairs by the king of Vampires, Leonardo Cavallero, here in San Diego. Two of the pairs have Swarovski crystals embedded in them. For the stage you know. EVERYTHING has to sparkle of course!
Xcitement: And dressing up in character:
Angela: Callidora is my Lesbian Vampire character. But I dress up in many many different characters for play, film, conventions and for the stage. Some that I am asked to cosplay as and some that I choose on my own.
Xcitement: We hear you do fetish conventions.
Angela: I do MANY Fetish conventions! Fetishcon is one of my all time favorites! It's not only a way for me to meet the fans but it's also a way from me to see and party with my model friends from around the country that I miss dearly throughout the year. And of course I'll be there this year. Along with the amazing Exotic Dancer Expo in New Orleans, ComicCon international in San Diego and a few other conventions coming up hopefully.
Xcitement: How did you get involved with Penthouse?
Angela: Penthouse picked me up after one of their Pet scouts saw me on webcam one fine day. I was so excited I made sure I was ready to WOW them with all the sexyness I had. It's been 5 years working for Penthouse and they have always been amazing to me and all my fellow Pets. I also made it to Pet of the Year runner up in 2013. It's definitely one big sexy family I'm very proud to be a part of.
Xcitement: Tell us about your Penthouse shoot.
Angela: My Penthouse shoots were awesome! Both my Penthouse Pet in 2012 and my Penthouse Pet of the Year runner up in 2013 shoot ran 13 hours plus long, I was exhausted hungry and sore from posing and all those sexy poses for the camera and video, but I would do it all over again in a heartbeat. It was one of the most exciting points not only in my career but my life. I will never forget it, the people I worked with were the most professional, fun and exciting people I've ever worked with.
Xcitement: When and why did you get into adult video
Angela: I love women – that's why.
Xcitement: What companies did you work with?
Angela: Penthouse, Playboy, Twistys, Brazzers, Girlfriend Films, Wicked films, GirlsWay, Naughty America, Bondage Cafe, Kink.com, Hustler, Vivid, Adam & Eve, New Sensations, Elegant Angel, Digital Playground, Christina Carter of CCproductions, Anastasia Pierce productions and many more. I've been doing this for a while.
Xcitement: What women did you work with?
Angela: Many sexy ones.
Xcitement: Who was the sexiest women you did a scene with?:
Angela: If I told you I'd make the others jealous.
Xcitement: Any funny stories about filming?:
Angela: Funny things happen on set all the time, this question is always asked and it's an interesting one. Every time you shoot something funny happens it's hard to say what exactly and pinpoint it. If it wasn't a funny day shooting it wouldn't be a fun job now would it!? As long as the laughter is flowing, we're having a good time and that's why we love our job.
Xcitement: The favorite adult video that you starred in…
Angela: I don't have one! I love them all.
Xcitement: Name a mainstream movie I would have like to have the female lead – and why?
Angela: I want to play Tomb Raider! Because she is one of the sexiest video game characters I grew up with, and she was played by non the less, but my favorite actress alive today, Angelina Jolie.
Xcitement: Do you drink? If so what is your favorite?
Angela: My favorite alcoholic drink? Extra Dirty Martini of course. But when I can't get a good one I am sipping on a shot or two of straight Don Julio tequila before and after my shows.
Xcitement: When and why did you start featuring?.
Angela: I started featuring as soon as I knew about it! When I first started in the adult industry, I was told that you had to do film in order to be a feature, but of course that is false information! If I had known this before hand I would have DEFINITELY started a lot earlier! My dream when I first hit the stage as a stripper at 21 what to put on shows as a show girl naked for everyone to watch and smile and have a good time. I grew up in Queens New York, that just didn't exist over there, and us dancers knew nothing about that life. The second I found out about it I was hooked and I was in. If I could do it for the rest of my life I would.
Xcitement: What do you enjoy about feature entertaining?
Angela: As a "Feature Dancer" I get to create a show that goes along with my stripping, and that's where the art comes in. Music mixing, costume designing, prop and sometimes set building, try to find a way to travels with all of it with ease! LOL This all takes a lot of effort and time but is all worth it once you hit that stage.
Xcitement: Let's talk about life on the road, the good and bad…
Angela: Life on the road is difficult and exciting. I think the first year it's scary and exciting, the second year it's just exciting and the 3 year it's exciting and difficult. At least that's how it's went for me, I'm now in my fourth year and I need to pace myself, so I've learned. You want to have a great time, drink every night stay up all night long, but you HAVE to pace yourself. Every showgirl learns this eventually. Especially if you're doing back to back 3, 4 day long features every weekend. I am really into my health, and balance, so I make sure now that in between all the partying, dancing and fun I take care of my body, hydrate and get my sleep because I really do love my tequila shots! Lol. We got to always look good for that stage!
Xcitement: How did you get into competing?:
Angela: I really don't compete often, the first time I ever competed was for the Exotic Dancer West invitationals . It was such a prestigious competition to be a part of I was hooked right away when they called me to be a part of it. I'm not really a pole acrobat or an acrobat at all. I really just love performing and I love the art of nude dance. A lot of the competitions in the United States are pole acrobat orientated. The Exotic Dancer Invitationals focus on the Showgirl, not necessarily the pole Acrobat, which is where I fit in nicely. I am so honored and happy to be a part of such a wonderful company, I can't wait for the competitions coming up in just a few months!! I have an amazing costume that I'm working on with my seamstress right now, and all us girls including me have been hitting the gym and training hard for it. It's on! Let the excitement begin!
Xcitement: You have two big competitions coming up right here in Florida.
Angela: Yes! I was invited to compete in the Monroe's Feature Entertainment Tournament this coming Memorial day Weekend. Then the week after I will be in the Exotic Dancer Invitational East that is being held at the Double D Saloon, also in West Palm Beach. Its an honor to be invited to both!
Xcitement: Because you are an adult star, do people ask you for "Sex Advice?"
Angela: As a traveling pornstar/performer, I get asked a lot by couples the best way too spice up their sex life. My advice, Watch porn! My porn preferably haha, mostly because it is usually laid out on my table in front of them when they ask me this. Most couples are afraid of watching porn together, but it is an amazing tool to spice up any sex life, young or old. And there is something out there for everyone! The couple that watches porn together, stays together.
Xcitement: What is your biggest turn off and turn on:
Angela: Turn off would be touching me without my permission. And I run into this problem a lot in strip clubs especially when alcohol is involved. I don't mean after an hour or so of talking and having drinks, and he puts a hand on my should or my back. I mean arm around the waist, around the back my neck, or my face. Big no-no, unless he asks first. My biggest turn on is someone who makes me laugh! And don't try to hard. I like a guy with confidence, who shows me that he is into me, but not so desperate that he will do anything to take me home that night or get my number. I like a guy who is okay if he's got to walk away without it. That makes me feel less pressured right off the bat, and I am more open to having fun.
Xcitement: What do you with your time off?
Angela: Back home in sunny San Diego, when I am not filming or feature dancing out of state, you can find me painting, wire sculpting jewelry, and Tribal Fusion Bellydancing. I have an awesome pet snake that dances with me ( I raised him to be a performance snake since her was 8 days old) so he loves people.
Xcitement: Tell us about your social media…
Angela: I enjoy chatting with my fans online though Twitter and Instagram!
you can find me at
twitter handle: @realangsommers
Instagram: @realangsommers
Come see all my XXX videos ( I produce & edit myself ) on my website www.AngelaSommers.com and my blog www.AngelaSommers.com/blog for upcoming Feature show dates I may be dancing for you in your city!
Xcitement: We can't wait to see you when you come to Florida. Good luck in the competitions and we'll make sure all the Xcitement readers will come out to see you!
Photos: Lorenzo Sperlonga
Booking Agent: A-List Features
Interview by Richard Kent